Customs Article


This article describes a custom creation, custom theme, or other fan material, made by a Brickipedia contributor. It has never been, is not, and will not be officially released.
Uger is a spinner it includes Uger.
Product Description
Uger uses his power of water to attack the Ragash! Includes blue spinner, blue Crown, 2 normal weapons, and the staff of water.
Minifigures Included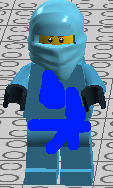 Yoger