Dance Master
Theme:
Released:
Playable Minifigures:
Dance Master is a 2010 Online Game on the LEGO Collectable Minifigures website. In the game you choose a character, the Cheerleader or the Tribal Hunter. Each time you see an arrow you press that arrow on the keyboard.
Gameplay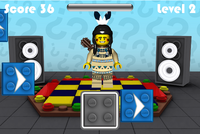 You pick either a
Cheerleader
or
Tribal Hunter
. In a manner similar to the arcade game
Dance Dance Revolution
, icons with arrow directions will fly onto the screen. When an icon passes over the square marker, the player must press the corresponding arrow key. The player will then perform dance moves on a dance floor. It is very similar to
Disco Dance Challenge
.
External links
Ad blocker interference detected!
Wikia is a free-to-use site that makes money from advertising. We have a modified experience for viewers using ad blockers

Wikia is not accessible if you've made further modifications. Remove the custom ad blocker rule(s) and the page will load as expected.