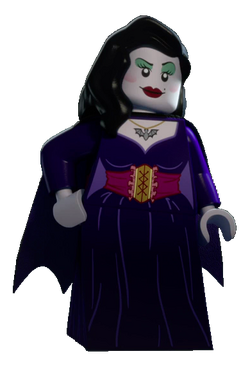 Drella Diabolique is a supporting character from LEGO Scooby Doo: Haunted Hollywood. She is the late night movie hostess who plays horror movies and has millions of fans.
Description
Drella has a long, flowing black hairpiece. Her head is pale, and is printed with a fanged mouth, dark-red lipstick, pink cheeks, a black mole on her left cheek, emerald green eyeshadow, and eyes with long eyelashes. She has a dark purple dress piece with a dark pink sash with a gold belt buckle on it, a necklace with a bat symbol on it, a black and purple cape, and she has pale hands.
Personality
Drella was cool, charismatic, scary, and has a frightened reaction, even while holding up her cape. She is also sometimes funny.
Trivia
Ad blocker interference detected!
Wikia is a free-to-use site that makes money from advertising. We have a modified experience for viewers using ad blockers

Wikia is not accessible if you've made further modifications. Remove the custom ad blocker rule(s) and the page will load as expected.