Goldie
Theme:
Design ID:

12201

Species:

Bird

Years:

Goldie is Olivia's pet bird. It is a small yellow bird with a red beak and black eyes.
Description
Edit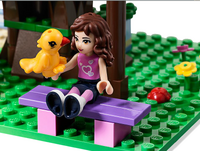 Goldie has small yellow feet, yellow wings, and a yellow tail. Its eyes are black and slanted, and its beak is red. It has short plumes protruding from the back of its head. Goldie is a one studded animal, similar to Daisy.
Backround
Edit
It is Olivia's pet bird, as Olivia feeds him and takes care of him. He lives in a white and red birdhouse next to Olivia's treehouse. He possibly got his name after his colour.
Appearances
Edit
See Also
Edit