This minifigure has only appeared in television episode(s)
Although this article is about an official minifigure, it never existed in physical form, or appeared in any official LEGO sets.
"Electro Cobrai. Although, they're extremely rare, they're extremely useful. "
―Pythor
Electro Cobrai are eel-like creatures that appear in the Lego Ninjago Masters of Spinjitzu episodes Blackout & The Curse of the Golden Master.
Description
Electro Cobrai are a blue eel-like aquatic creature that can power electronic devices. They were used by Pythor to reactivate the Overlord's Nindroids.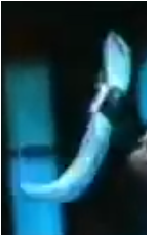 Notes
Pythor is fond of using them to power things.
The Ninjago City Aquarium used to have some of these on display, until Pythor broke in and stole them.
Ad blocker interference detected!
Wikia is a free-to-use site that makes money from advertising. We have a modified experience for viewers using ad blockers

Wikia is not accessible if you've made further modifications. Remove the custom ad blocker rule(s) and the page will load as expected.