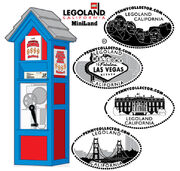 Elongated coins, or elongates, are souvenirs often available at various theme parks, and attractions, and can usually be found at LEGOLAND parks, and LEGOLAND Discovery Centre. The coins are elongated by putting pennies (or, in some cases, other coins) into a special pressing machine, and choosing a design with which to imprint them, which is then imprinted into them by a die in the machine.
Special "penny books" are also made to hold elongates, and are sometimes sold at LEGOLAND parks.
External Links
Ad blocker interference detected!
Wikia is a free-to-use site that makes money from advertising. We have a modified experience for viewers using ad blockers

Wikia is not accessible if you've made further modifications. Remove the custom ad blocker rule(s) and the page will load as expected.