Frodo Baggins
Talk

4
28,554pages on
this wiki

Frodo Baggins
Theme:
Variations:

Regular
Shire

Accessories:

Cloak
Ring
Sting

Years:
"You must understand... the Ring is my burden."
Frodo Baggins is a The Lord of the Rings minifigure released in 2012. He is one of the main characters of the theme, and appears in four sets.
Description
Frodo's Shire variation, which is seen in 9469 Gandalf Arrives, has dark brown short legs, and a sand green torso. His torso is printed with suspenders, a belt, and several buttons. His arms are also sand green, and his hands are light nougat. His light nougat head has, on one side, a cheerful, smiling expression, and, on the other, a slightly worried look. He has brown eyebrows, and curly brown hair.
There are two versions of Frodo used when he is adventuring which almost the same apart from the fact that they have different coloured cloaks. The Frodo that appears in 9470 Shelob Attacks has a dark grey cloak while the one that appears in 9472 Attack on Weathertop has a dark green cloak. This is because the Fellowship got new cloaks after leaving Lorien. Frodo has dark brown legs, and a reddish brown torso. His torso is printed with a reddish brown coat, a dark red waistcoat, and a white collar. He has reddish brown arms, and light nougat hands. One side of his light nougat face has a grim expression, and the other has a terrified screaming mouth, and pure white eyes. He has brown eyebrows, and curly dark brown hair.
Background
Frodo Baggins was a Hobbit of the Shire. His uncle Bilbo Baggins had went on an adventure 60 years earlier, and found the One Ring in the creature Gollum's cave. The Ring passed onto Frodo after Bilbo's 111th birthday party. After learning that the Ring was the most powerful weapon of the enemy, the Dark Lord Sauron, Frodo was tasked by the wizard Gandalf the Grey to immediately leave the Shire (with his gardener, Samwise Gamgee, Merry, and Pippin) and head for the The Prancing Pony in the village of Bree. After a long series of adventures, he finally destroyed the Ring.
Notes
He has a double-sided face, in both his variations.
He has a new hairpiece, used, in various colours, for all the Hobbits.
He has a new kind of sword that looks like Sting, the magical Elven blade his uncle Bilbo gave him.
Appearances
Video game appearances
This is a description taken from LEGO.com. Do not modify it. (visit this item's product page)
---
Frodo™
Frodo Baggins of Bag End, like most Hobbits, is not easily affected by magic - good or evil. Frodo volunteers to carry the One Ring to Mordor, cast it into Mount Doom and destroy the One Ring forever. He soon feels the terrible powers of The Ring, and all the dark creatures who hunt him in their search for it will do anything to claim the One Ring for themselves and leave Middle-earth in darkness. It is hard for a very small person to carry such a heavy burden. Frodo will need all the help he can get from his friends in the Fellowship. He must summon all his courage, endurance, kindness, and strength, because even the smallest person can change the course of the future.
Variants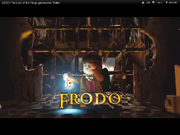 == Gallery ==