The Guardian is a minifigure in Knights' Kingdom II. He was the guardian of the Heart of the Shield of Ages, who waits at the Citadel of Orlan.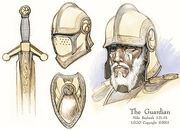 Description
He wields a transparent lime-green "magical" spear. His arms are dark grey and his hands brown. His body has the design of a breastplate and a pendant with the Heart of the Shield of Ages strung on it. His body is brown, but the design is grey. His legs are brown and his belt is also dark grey. He has a beard and no hat or hair.
Appearances
Ad blocker interference detected!
Wikia is a free-to-use site that makes money from advertising. We have a modified experience for viewers using ad blockers

Wikia is not accessible if you've made further modifications. Remove the custom ad blocker rule(s) and the page will load as expected.