Background
The Holo-Brick Archives is a project from LEGO meant to serve as a databank for every LEGO Star Wars set ever made. Each set has several pictures and all major information including minifigures, pieces, price, LEGO Shop@Home description, and year released. The site was launched on September 8 2009 as part of LEGO's site-wide re-vamp of the Star Wars sub-site on LEGO.com. However, even though the site has officially been released to the public (with a link in the main menu), the archives are not yet complete, and still have many sets to be put up.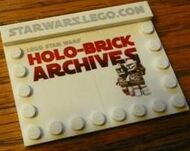 Ad blocker interference detected!
Wikia is a free-to-use site that makes money from advertising. We have a modified experience for viewers using ad blockers

Wikia is not accessible if you've made further modifications. Remove the custom ad blocker rule(s) and the page will load as expected.