Jester
Theme:
Years:
A Jester is a minifigure of the Castle (2007) theme.
Description
This Jester appeared in two variants: One Jester has a turnable face, with two faces printed on his head, he can be found in the set 7079 Drawbridge Defense. The other one doesn't have a double face, he can be found in the 7979 Castle Advent Calendar.
Background
Jesters usually tried to cheer up the Kings by playing music and singing songs. They were also known as "the royal fools".
Appearances
Movie Appearances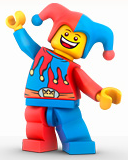 See Also
Ad blocker interference detected!
Wikia is a free-to-use site that makes money from advertising. We have a modified experience for viewers using ad blockers

Wikia is not accessible if you've made further modifications. Remove the custom ad blocker rule(s) and the page will load as expected.