The Justice League is a team of heroes that are seen in LEGO DC Comics: Batman Be-Leaguered, LEGO DC Comics Super Heroes: Justice League vs Bizarro League, LEGO Batman 2: DC Superheroes (LEGO Batman: The Movie - DC Super Heroes Unite), and LEGO Batman 3: Beyond Gotham.
Members: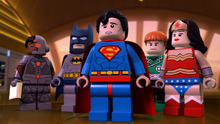 Notes
Enemies
The Justice League has a wide array of villains including: Lex Luthor, Joker, Brainiac, Solomon Grundy, Sinestro, Riddler, Deathstroke, Poison Ivy, Gorilla Grodd, Captain Cold, Cheetah, Bizarro, Black Manta, Giganta, Black Adam, Darkseid, Ultra-Humanite, Ra's Al Ghul, Merlyn, Penguin, Toyman, Doomsday, Manchester Black, and many others who are not made in LEGO yet.
Ad blocker interference detected!
Wikia is a free-to-use site that makes money from advertising. We have a modified experience for viewers using ad blockers

Wikia is not accessible if you've made further modifications. Remove the custom ad blocker rule(s) and the page will load as expected.