Toa Metru II Collection
Item №:

K8606

Price:

US $23.97

Ages:

7+

Released:
Theme:
K8606 Toa Metru II Collection is a BIONICLE Product collection set released in 2004. It included three Toa Metru sets.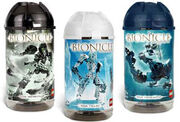 LEGO.com Description

This is a description taken from LEGO.com. Do not modify it. (See an archive of the product's page)
---
Power of the Rahi!
These three amazing models can be combined to form a powerful Rahi beast!
This special set includes:
8602 Toa Nokama
8603 Toa Whenua
8606 Toa Nuju
Sets Included
Notes
The three sets can be combined to build the Kraawa, as referred to in the LEGO.com description.
External links
Ad blocker interference detected!
Wikia is a free-to-use site that makes money from advertising. We have a modified experience for viewers using ad blockers

Wikia is not accessible if you've made further modifications. Remove the custom ad blocker rule(s) and the page will load as expected.