This article needs to be built up.
This article lacks substantial content. You can help Brickipedia by "adding on some bricks."
In other words, it needs to be expanded. After you expand the article, please remove the "Expand" template. Further information might be found on the talk page.
This minifigure has only appeared in a non-physical form
Although this article is about an official minifigure, it never existed in physical form, or appeared in any official LEGO sets.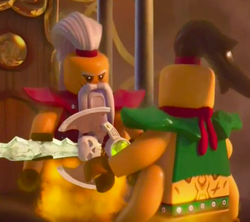 Khanjikhan is the father of Nadakhan and a minor character in Ninjago: Masters of Spinjitzu.
History
Khanjikhan was the king of Djinjago, but became estranged from his son due to Nadakhan's piratic pursuits in the realm of Ninjago. The two were later reunited when Nadakhan returned to his home in "Enkrypted" only to find it falling apart, with Khanjikhan as the only visible surviving inhabitant. Khanjikhan explained to his son that with the destruction of the Cursed Realm, Djinjago's sister realm, Djinjago had become unstable and would share the same fate. He then gave his son the Sword of Souls, encouraging him to avenge their crumbling home. He declined the offer to depart, citing Nadakhan's own mannerisms by saying "A good captain always goes down with the ship."
Trivia
Given the reversal of most of the events of Skybound, it can be presumed that Khanjikhan perished in the destruction of Djinjago, with the Sword of Souls being destroyed in the process.