King Kahuka
Theme:
Years:
"Me, King Kahuka, beat you like tribal drum…"
―King Kahuka in LEGO Racers
King Kahuka is the leader of the Islanders. He appears in 4850307 LEGO Battles in the Pirates section. He is however most notable for his appearance in LEGO Racers, as he is the boss of the second circuit.
Appearances
Video Game Appearances
Notes
In LEGO Racers, he is the boss of the 2nd circuit.

Before the first race, he says "I will beat you like tribal drum!" then does a victory dance and later says "Ooh ah ooh ah!" He is arguably the easiest boss, as King Kahuka uses only very defensive tactics throughout each race, however this makes it difficult to attack with red or yellow bricks.

King Kahuka did not appear in LEGO Island 2, but many Islanders did.
In DK Minifigure Ultimate Sticker Collection, his name was misspelled "King Kuahka" instead of "Kahuka".
In Bricks And Pieces Magazine, he was named Chief Quextil.
If the player waits long enough in the menu of Lego Racers, there will be a demo race where King Kahuka takes the place of the player.
A figure that somewhat resembles Kahuka appears in the set 4229619 Memo Pad Minifig - (K) Islander.
Gallery
Videos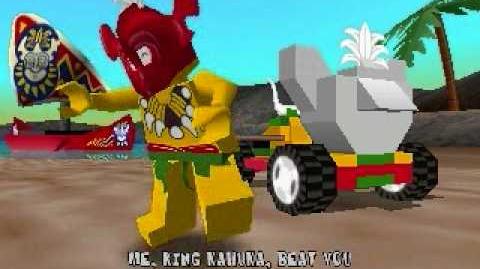 Ad blocker interference detected!
Wikia is a free-to-use site that makes money from advertising. We have a modified experience for viewers using ad blockers

Wikia is not accessible if you've made further modifications. Remove the custom ad blocker rule(s) and the page will load as expected.