This article or section is lacking the neccessary infobox that should be provided. Please replace this template with a proper infobox for this article.
This template is not neccessary for articles which do not require an infobox.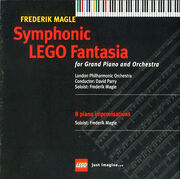 LEGO Fantasia is a symphony with 3 movements. Commissioned by the LEGO Group in 1995, it was written by Danish composer Frederik Magle. It was premiered on 24 August 1997 at a concert in St George's Chapel, Windsor Castle by the London Philharmonic Orchestra conducted by David Parry, with Magle himself on piano.
Ad blocker interference detected!
Wikia is a free-to-use site that makes money from advertising. We have a modified experience for viewers using ad blockers

Wikia is not accessible if you've made further modifications. Remove the custom ad blocker rule(s) and the page will load as expected.