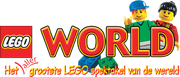 LEGO WORLD
is a LEGO event. The Dutch event is the largest in the world. Every autumn holiday it is organised in the IJsselhallen in Zwolle, The Netherlands. 6 huge buildings are fully stuffed with LEGO. Each year over 70,000 people visit LEGO WORLD; each year it's completely 'sold out'!
During LEGO WORLD you can see full-scale buildings, LEGO models, a mega cinema, spectacular attractions, exciting worlds of LEGO themes and performances of popular artists. You can speak with LEGO designers, LEGO clubs and builders. There are also several shops where you can buy, sometimes rare, LEGO. But above all, you can build with LEGO yourselves!
Around the start of the event you can catch a glimpse on the site.
Norway and Denmark: In 2008 LEGO World was also in Norway and since 2009 it has taken place in Copenhagen. The first year in Denmark it took place at Denmark's national stadium Parken. Since 2010 it has been at the conference centre Bella Center. It normally takes place Thursday-Sunday in week 7 which is the winter holiday week for the schools.
Notes
In 2001 the event was organised for the first time.
In 2011 it was held from Wednesday 19 till Tuesday October 25, with 30021 Parrot as free gift. Poster : 2011
In 2012 it was held from Wednesday 17 till Tuesday October 23, with 30150 Racing Car as free gift.
Photos
Videos
References

LEGO WORLD homepage (in Dutch)
Ad blocker interference detected!
Wikia is a free-to-use site that makes money from advertising. We have a modified experience for viewers using ad blockers

Wikia is not accessible if you've made further modifications. Remove the custom ad blocker rule(s) and the page will load as expected.