Marceline the Vampire Queen is a LEGO Dimensions minifigure released in November 2016.
Background
Marceline is the daughter of the Nightosphere ruler Hunson Abadeer and a human woman. She was a vampire hunter until she was bitten by the Vampire King, and since then she's known as Marceline the Vampire Queen. She doesn´t need to suck blood, she just needs to feed on the color of red things.
Appearances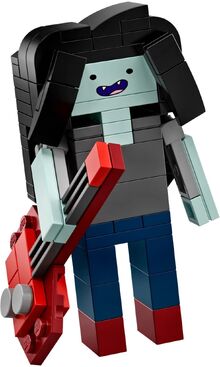 Ad blocker interference detected!
Wikia is a free-to-use site that makes money from advertising. We have a modified experience for viewers using ad blockers

Wikia is not accessible if you've made further modifications. Remove the custom ad blocker rule(s) and the page will load as expected.