This disambiguation page lists articles associated with the same title.
If an internal link led you here, you may wish to change the link to point directly to the intended article.
"Yeehaa!"
―Mark Surge
"There's no time!"
―IFB Surge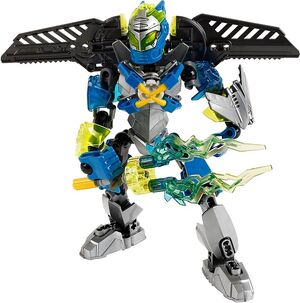 Mark Surge is a Hero Factory character introduced in 2010. He is a hot-tempered member of Alpha Team and was present on the Ordeal of Fire, Breakout missions, and Brain Attack missions.
Surge may refer to
Bio

This is a description taken from LEGO.com. Do not modify it.
---
Surge can be a real crackling live-wire with a lightning fuse and defiant nature.
Furno, Surge and Breez are the three newest models produced and each of them has some experimental parts that require careful scrutiny. The last thing a young edgy guy like Surge wants is some science geek around all the time studying his reactions. But as Furno always points out, if you want to make full Hero you've gotta play by the rules. For Surge this is way easier said than done. He's full of good intentions until something sets him off and he seems to go blank on long-term goals and just be consumed by the emotions of the moment.
IFB Bio

This is a description taken from HeroFactory.LEGO.com. Do not modify it.
---
Surge is as much of a hero as the others, but he constantly has to fight a lot of inner demons. He's a good-hearted and loyal friend, full of good intentions yet easily swayed by his emotions. But when the going gets tough, he can always be counted upon.
Movie Quotes:
"Keep firing"
"Great, now we are going to have to face the enemy on their turf"
"Look at all these empty cocoons... I'll bet you this is what they came out of!"
Strengths: Air combat
Loyal
A friend in need
Weakness: Often doubts his abilities and true hero powers
Gallery
Ad blocker interference detected!
Wikia is a free-to-use site that makes money from advertising. We have a modified experience for viewers using ad blockers

Wikia is not accessible if you've made further modifications. Remove the custom ad blocker rule(s) and the page will load as expected.