This article needs to be built up.
This article lacks substantial content. You can help Brickipedia by "adding on some bricks."
In other words, it needs to be expanded. After you expand the article, please remove the "Expand" template. Further information might be found on the talk page.
This minifigure has only appeared in a non-physical form
Although this article is about an official minifigure, it never existed in physical form, or appeared in any official LEGO sets.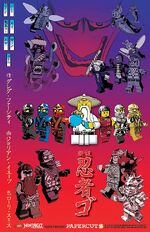 The Mask of Malice is a living mask that appeared in the Ninjago: Masters of Spinjitzu graphic novel Stone Cold as the last of a set of evils that Sensei Wu challenged after many of his former foes were freed from the Tower of Tears. However, rather than battling Wu, the Mask caused him to question how he had ended up on his crusade, and provided a vital clue as to who had freed all of his old enemies: Lord Garmadon.
Ad blocker interference detected!
Wikia is a free-to-use site that makes money from advertising. We have a modified experience for viewers using ad blockers

Wikia is not accessible if you've made further modifications. Remove the custom ad blocker rule(s) and the page will load as expected.