Minifigures (theme)
Comments

0
24,441pages on
this wiki

Minifigures
Years:

2010-present

Minifigures, more commonly referred to as Collectable Minifigures, is a theme introduced in May 2010. Each series consists of several polybags, with unique minifigures inside. A new series is released every three or four months, with sixteen new minifigures in each series (excluding the 8909 Team GB Minifigures, which includes 9 minifigures). They are packed 60 polybags per sealed box. The minifigures can be based off of movies, sports, or history. Each minifigure contains new elements in the form of accessories, and uniquely printed body parts.
Nine regular series, and one special series, have been released to date.
In addition to regular series, two sets based on the theme exist, 850458 VIP Top 5 Boxed Minifigures, and 850449 Minifigure Beach Accessory Pack. There have also been some other sets released affiliated with the theme.
Description
Edit
The Minifigures theme was introduced in
May
2010
. The first glimpse of the theme was in the
April
2010
LEGO Club Magazine
, which included a
poster
of the minifigures. Each series, except the
8909 Team GB Minifigures
, contains sixteen minifigures drawn from a wide range of different settings: movies, sports, history, everyday life and almost any other source imaginable. They are intended to be collected and traded, and designed so that interesting new minifigures could be acquired without purchasing a whole new set.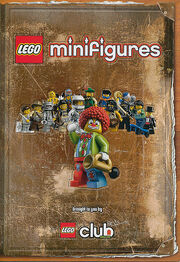 Each minifigure features high detail with special, often purpose-made, accessories and a black display base. The theme features new accessories such as maracas, microphones, skirts, guitars, and other new elements such as hair styles, hats, and helmets. Series 1 and 2 include some spare accessories, but subsequent releases discontinued this practice. Many of these elements have not been produced in any subsequent sets.
The minifigures are sold in individual opaque polybags, meant to prevent buyers from identifying the contents. However, barcodes on the backs of the polybags of Series 1 and 2 can be used to identify the respective minifigure, and in response, Series 3, 4, 5, 6 and 7, 8909 Team GB Minifigures and 8 use a "bump code" along the bottom of a package instead. These bump codes are designed to be much more difficult to distinguish. Each polybag contains 5-11 elements including a minifigure, accessories, a display base, and an instruction/checklist booklet. Each series is only available for a limited time, which is often three to four months before the next series is released and replaces its predecessor.
The 8683 Minifigures Series 1 and 8684 Minifigures Series 2 polybags' content could be differentiated via imprinted barcodes on the back. This is used by applications such as Mini Collector for iPhone.
The plastic used for Collectable Minifigures is different than the plastic used in other sets. Instead of ABS plastic, it is a cheaper plastic imported from China. As a result, the parts can be difficult to separate or move, such as the hands and the head which then become loose very quickly.
Some minifigures are very similar to other or older minifigures from other themes, such as the Ninja (Minifigures) (similar to Bonzai and Cole) or the Cowboy (similar to the minifigures from the Western theme).
In July 2011, an e-mail was sent to V.I.P. members telling them to vote for their favourite minifigure from Series 1-3. The top 5 picked were announced in January 2012, and were revealed to be the Elf, the Fisherman, The Space Villain, the Gorilla Suit Guy, and the Mummy. A set was created featuring the chosen 5 in it, it was released in 2012, available only for V.I.P. members. However, due to the lack of the Spartan, most likely the all-time most popular figure along with the Elf, it is likely that the minifigures included were decided based on quantity of left-over figures.
Series 7 has various throwbacks and references to other characters or sets. (Elf says that he can track down Trolls, Evil Knight lists villains, saying he's worked for them, Galaxy Patrol says that he can withstand the Alien Clinger mind control, Hippie has a quote from a T-shirt on a previous set, and Swimming Champion says that Ocean King is her biggest fan.
Additional printing, such as back and arm printing, reversible heads, and so on, was not present in the first series, but has gradually become more common as the series progressed. The Olympics Series is the only series so far to have additional printing on every minifigure, as well as being the only series with white display bases with the Olympics' logo, the words "Team GB", and the Great Britain's team's logo. The minifigures that have this printing are:
Series 1:
Series 2:
Series 3:
Series 4:
Series 5:
Series 6:
Series 7:
Team GB Minifigures:
Series 8
Series 9
Series 10
Character Encyclopedia
2010:
Colour: Yellow
Colour: Blue
2011:
Colour: Lime Green
Colour: Orange
Colour: Azure
2012:
Colour: White
Colour: Scarlet red
Colour: Black
Colour: White/Blue/Red (Team GB colours)
2013:
Colour: Silver/Grey
Colour: Gold
Colour: Green
Other sets that include Collectable Minifigures
Edit
Reprints several minifigures from Series 3, with some slight modifications. Colour: Light blue
Reprints Hula Dancer, Surfer, and Surfer Girl
Includes Race Car Driver
Includes Cheerleader, Skater
Includes Rapper, Drummer, Guitarist
Includes Santa
Online games
Edit
Series 1:
Series 2:
Series 3:
Series 4:
Fish Catcher (Includes minifigures from both Series 3 and 4)
Series 5:
Series 7:
Series 8:
Series 10:
Minifigures Included
Edit
Series 1
Edit
Series 2
Edit
Series 3
Edit
Series 4
Edit
Series 5
Edit
Series 6
Edit
Series 7
Edit
Olympics Team GB
Edit
Series 8
Edit
Series 9
Edit
Series 10
Edit
Series 11
Edit
Character Encyclopedia
Edit
Promotion
Edit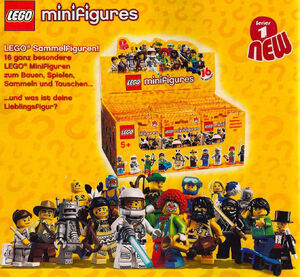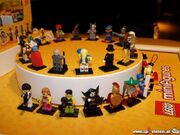 Picture from German 2010 consumer catalog.

Translation:
LEGO collectable figures!
16 very special LEGO Minifigures for building, playing, collecting and trading...
...and what is your favorite figure?

See Also
Edit
External Links
Edit