This minifigure has only appeared in video game(s)
Although this article is about an official minifigure, it never existed in physical form, or appeared in any official LEGO sets.

Mysterio is a Marvel Super Heroes minifigure that appears in LEGO Marvel Super Heroes.
Background
Edit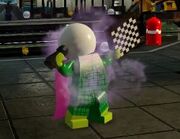 Quentin Beck was a special-effects technician, who had high hopes in business. Due to lack of recognition, but experience he thought to become an affective supervillain, naming himself Mysterio, and claiming he is a wizard and using special-effects as his "magic powers".
Appearances
Edit
He and The Lizard the only Spider-man villains who have never appeared in physical sets.