The Neimoidians are a species that are allied with the separatist forces. They appear in LEGO Star Wars III: The Clone Wars. One is physically released in 75041 Vulture Droid. Nute Gunray was their leader and a member of their species.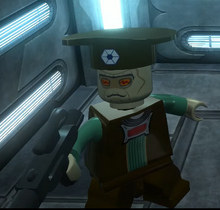 History
The Neimoidian race resides on the planets of Neimoidia and Cato Neimoidia, which is famous for its "bridge" cities. This character appears briefly in Episode III: Revenge of the Sith and in the fourth episode of Season 3 of Star Wars: The Clone Wars, Sphere of Influence.
Appearances
External Links
Ad blocker interference detected!
Wikia is a free-to-use site that makes money from advertising. We have a modified experience for viewers using ad blockers

Wikia is not accessible if you've made further modifications. Remove the custom ad blocker rule(s) and the page will load as expected.