Brickipedia is currently undergoing a change with the naming of part articles and this article's name may be outdated.


| | | | | | |
| --- | --- | --- | --- | --- | --- |
| | Design ID: 30483-01 | Years in production: 2000 | Pick a Brick price: N/A | Available Colours: | Appearances: |
Part 30483-01 is the piece used for Chewbacca's torso and head.
Description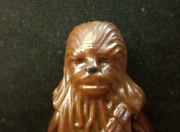 Part 30483-01 is the piece used to represent the Wookiee Chewbacca's head and torso. It includes thick "fur" and the bandolier he wears. The face of the piece has indentations for the eyes, a nose tipped in black and a mouth, both of which jut out slightly, making the piece closely resemble the Wookiee it was modeled after. The eyes are of a unique design, with indentations instead of paint.
Notes
This piece is exclusive to Chewbacca.
Appearances
Sets
Media
External Link(s)
Ad blocker interference detected!
Wikia is a free-to-use site that makes money from advertising. We have a modified experience for viewers using ad blockers

Wikia is not accessible if you've made further modifications. Remove the custom ad blocker rule(s) and the page will load as expected.