Brickipedia is currently undergoing a change with the naming of part articles and this article's name may be outdated.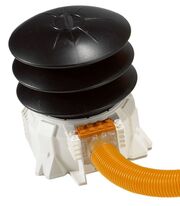 Part 30584c01 (also known as Air Pump 16 x 14 x 13 Complete Assembly) was a special accessory piece that appeared in sets of LEGO's Space theme. It was a crucial part of the Pump System featured in Life on Mars and Mars Mission. The part itself consisted of a black cylindrical bellows and a solid base with a hole to which special ribbed hose elements could be connected. It could pump air through those hoses and the resulting air flow could be used for a wide variety of functions, such as firing weapons or moving items, including minifigures, through the pipes.
The base was molded in sand purple for Life on Mars (2001) and was plain white for Mars Mission sets in 2007.
Appearances
Sand Purple:
1 in 7317 Galaxy Explorer- 2001
White:
1 in 7960 MB-01 Eagle Command Base -2007
1 in 7961 ETX Mothership Assault -2007

Related elements
Ad blocker interference detected!
Wikia is a free-to-use site that makes money from advertising. We have a modified experience for viewers using ad blockers

Wikia is not accessible if you've made further modifications. Remove the custom ad blocker rule(s) and the page will load as expected.