Brickipedia is currently undergoing a change with the naming of part articles and this article's name may be outdated.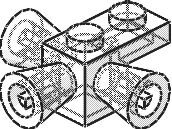 The Positioning Rockets is a strange brick common in the 1990s, but not much now. These were very common in Fire sets; they resembled megaphones or speakers. However, their name suggests that it is a rocket. They almost always come in black, but also appear as white, grey, and stone.
External Links
Ad blocker interference detected!
Wikia is a free-to-use site that makes money from advertising. We have a modified experience for viewers using ad blockers

Wikia is not accessible if you've made further modifications. Remove the custom ad blocker rule(s) and the page will load as expected.