| | | | | | |
| --- | --- | --- | --- | --- | --- |
| | Design ID: 48489 | Years in production: 2004 - 2006 | | Available Colours: | Appearances: |
Part 48489 is a visor piece for the helmets of Vladek from Knights' Kingdom II and the Firebenders from Avatar: The Last Airbender.
Description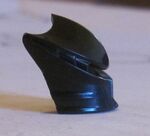 The visor is a smaller version of Part x1131 and bears a strong resemblance to the piece. It is wide and ridged and forms into three points at the top. It has a single T-shaped slit in the front for where the eyes, nose and mouth would be. On either side of the visor are two ridges, one above the other.
Gallery of Variants
Appearances
Black
Dark Red
See Also
External Links
Ad blocker interference detected!
Wikia is a free-to-use site that makes money from advertising. We have a modified experience for viewers using ad blockers

Wikia is not accessible if you've made further modifications. Remove the custom ad blocker rule(s) and the page will load as expected.