Brickipedia is currently undergoing a change with the naming of part articles and this article's name may be outdated.


| | | | | | |
| --- | --- | --- | --- | --- | --- |
| | Design ID: 89752 | Years in production: 2010 | Pick a Brick price: N/A | Available Colours: | Appearances: |
Part 89752 is a piece used for the Wampa's torso and legs. It has two holes on the side of it's head to hold horns,and it has two larger holes on the sides of it's body to hold Part 6562, which hold the Wampa right arm, Part 87564 and the Wampa left arm, Part 87565.
It's LEGO Digital Designer name is known as WAMPA TORSO ASSEMBLED.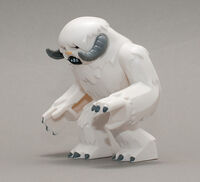 Appearances
External links
Ad blocker interference detected!
Wikia is a free-to-use site that makes money from advertising. We have a modified experience for viewers using ad blockers

Wikia is not accessible if you've made further modifications. Remove the custom ad blocker rule(s) and the page will load as expected.