Brickipedia is currently undergoing a change with the naming of part articles and this article's name may be outdated.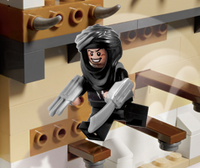 Part Bb428 (the Blade Arm) is an accessory with blades used by Tamah in the Prince of Persia theme. The Arms are used to attack enemies at close range. The attack principle is similar to the Spike Arm used by Setam and Tamah.
See also
Ad blocker interference detected!
Wikia is a free-to-use site that makes money from advertising. We have a modified experience for viewers using ad blockers

Wikia is not accessible if you've made further modifications. Remove the custom ad blocker rule(s) and the page will load as expected.