Brickipedia is currently undergoing a change with the naming of part articles and this article's name may be outdated.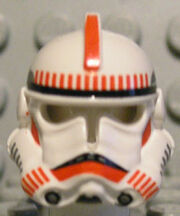 Part x1458px6 (or the Phase II Clone Helmet with red markings) was a LEGO minifigure helmet. It was a helmet, given to Shock Troopers in the Star Wars Episode III Revenge of the Sith line. It was a white Shock Troopers minifigure Helmet with red markings, to make resemble a Senate Guard or Shock Trooper. It has appeared in two sets.
Physical Appearance
The mask covers a whole minifigure head. At the bottom are two cylindrical tubes, pointing right and left, forming a sort of filtration tubes. Both go from almost the center of the front of the mask and go back to the extreme left or right. On the top of the mask is an opening. On the center of the top is a arch pointing out. The mask has designs to make it look like it's real life counterpart. Red designs are present on the mask to make it resemble a Shock Trooper.
Appearances
External Links
Ad blocker interference detected!
Wikia is a free-to-use site that makes money from advertising. We have a modified experience for viewers using ad blockers

Wikia is not accessible if you've made further modifications. Remove the custom ad blocker rule(s) and the page will load as expected.