Design ID: 58247





Years in production: 2007
Available Colours:

Appearances:

See below
Part 58247 is a blaster piece exclusive to Star Wars. Before this mould was made, the bullhorn with a stud was used. This piece was introduced in 2007 and is still the average blaster gun in Star Wars sets.
History
Before this mould was released, a bullhorn was used. This piece first appeared in
7655 Clone Troopers Battle Pack
. After the release of the two battle packs, parts 58247 and
57899
were used as guns in all of the Star Wars sets that included clone troopers or battle droids. So far, this mould has appeared in seven battle packs except for
7654 Droids Battle Pack
.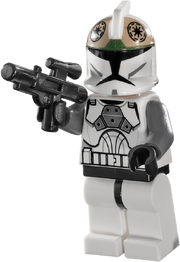 It is most likely modeled after the E-11 Blaster Rifle from the Star Wars universe.
Gallery
Appearances
This article or section is incomplete.
Please improve the article, or discuss the issue on the talk page.
Black:
2007
2008
2009
2010
2011
2012
External Links
Ad blocker interference detected!
Wikia is a free-to-use site that makes money from advertising. We have a modified experience for viewers using ad blockers

Wikia is not accessible if you've made further modifications. Remove the custom ad blocker rule(s) and the page will load as expected.