Pharaoh's Quest
Talk

12
28,554pages on
this wiki

Pharaoh's Quest
Years
Related themes

Pharaoh's Quest is a LEGO theme that was introduced in November 2010, but was released in 2011.[1]
Story
Professor Archibald Hale is on the trail of Amset-Ra, a long lost Pharaoh, and his six mysterious treasures. Prof. Hale is an archaeologist, but more used to museums than working in the field. As this will be one of his rare expeditions, he hires Jake Raines - explorer, thrill seeker, and all-around daredevil - to assist with the heavier work. He discovers an Egyptian tablet, which he uses to translate a journal telling the story of Amset-Ra. It reveals his evil intentions and loyal servants, such as Mummy Warriors, flying mummies, a massive cobra, a giant scarab beetle, Anubis Guards, and other strange and terrifying creatures. The journal also contains notes about the pyramid of Amset-Ra himself, which to two explorers set out to investigate.
Sets
Polybags
Sets
Miscellaneous
Minifigures
Creatures
Treasures
Games
Notes
The names use the Adventurers style of naming good characters after types of weather:

Given that all of the heroes have counterparts in the adventurers line this may simply be a continuation of the line.
In The LEGO Movie, Wyldstyle's flashback involving the Master Builders showed Pharaoh's Quest on the map in Lord Business' boarding room. It is shown in south of Cape Space and Middle Zealand and north of Pirate's Cove.
Gallery
Video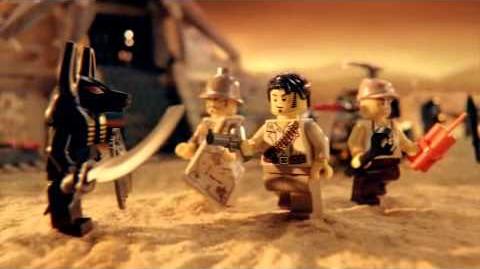 References