Pick-a-Brick is a part of the LEGO Shop; closely related to the LEGO Factory. It allows you to choose a precise part that you need and can purchase it. You can buy bricks online or at such a local LEGO Store.
Store
The LEGO Store offers an assortment of pieces. It also offers the ability to hand-pick these pieces.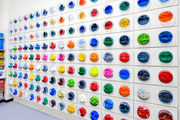 Online
You can buy more exclusive bricks online at LEGO.com but it takes longer to receive due to shipping. The Online Pick-a-brick currently has 1,602 bricks available for shipping.
External Links