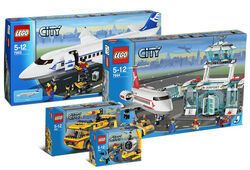 Product Collections are product bundles which contain an assortment of several sets that usually belong to a common theme or have a common subject. In contrast to Bonus Packs, which contain exclusive sets that are not sold individually, product collections usually feature sets that could just as well be bought separately.
Product collections usually have a four-digit number with a preceding "K" or a five-digit number beginning with "6".
List of sets
See Category:Product Collections for a list of sets.
See also
Ad blocker interference detected!
Wikia is a free-to-use site that makes money from advertising. We have a modified experience for viewers using ad blockers

Wikia is not accessible if you've made further modifications. Remove the custom ad blocker rule(s) and the page will load as expected.