This article is a candidate for deletion. If you agree or disagree with this, please discuss on Articles for Deletion page before removing this template.
Deleting reason: page not needed
You can also request a deletion in the thread Articles for Deletion.
This article needs to be built up.
This article lacks substantial content. You can help Brickipedia by "adding on some bricks."
In other words, it needs to be expanded. After you expand the article, please remove the "Expand" template. Further information might be found on the talk page.
This minifigure has only appeared in a non-physical form
Although this article is about an official minifigure, it never existed in physical form, or appeared in any official LEGO sets.
The name of this subject is conjectural.
Although this article is based on an official subject, its actual name is pure conjecture.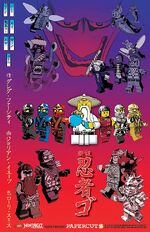 The Quartet of Villains is a group of four unnamed villains who appears in the Ninjago: Masters of Spinjitzu graphic novel Stone Cold. Each appeared to be either an inhuman creature or else a human wearing a costume, with its members resembling a vampire, a humanoid moth, and two lizard-like humanoids. They were previously imprisoned in the Tower of Tears by Sensei Wu before being released by Lord Garmadon, only to be defeated as Sensei Wu started going after his old foes rather than waiting for them to attack him.
Ad blocker interference detected!
Wikia is a free-to-use site that makes money from advertising. We have a modified experience for viewers using ad blockers

Wikia is not accessible if you've made further modifications. Remove the custom ad blocker rule(s) and the page will load as expected.