Power Brick
Talk

0
24,441pages on
this wiki

Power Bricks are accessories in most recent LEGO Games, along with canisters. They are used to obtain extras in the LEGO Batman, LEGO Indiana Jones, LEGO Harry Potter, and LEGO Star Wars games. There is an extra called the Red Brick Detector that helps you find the Red Power Brick in each level. Red Power Bricks can be found in Free Play Mode and in the World (Gotham City and Middle Earth).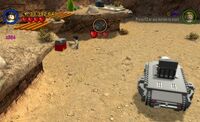 A variant of the Red Power Brick, which appears in LEGO Indiana Jones, is the package. It's a mail package which must be brought to the mailbox for you to unlock the extra.
Once you have unlocked an extra, you can buy it with studs, and turn it on/off during the game. Some extras come unlocked, but these have no effect on gameplay, with the exception of Ice Rink, which makes everything slippery and makes the game harder.