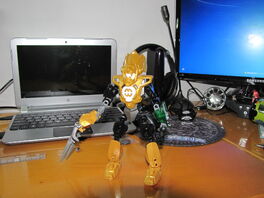 The Rocka 3.0 set is no less the same as with other characters of the 3.0 wave, but he has features which stand out among the rest.
Box
The canister of his shows lots of heads around the border, and you find a silhouette of something out on the right. I found this to be 2283 Witch Doctor. Noting too interesting about that. Yet.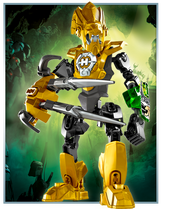 Looks
Rocka has been given the 3.0 animal-themed upgrade, and he gets a lion. The most standout part of this is obviously the helmet. Large and rather bulky, this piece slips free a lot, but a thin layer of tissue should do the trick. He travels rather light, in accordance with his armor. This adds a nice touch to the lion theme.
Building
Rocka, like all of them from 2.0 and above, is easy to build: snap, snap, snap. Even the picture on the canister is good enough for instructions, basically because their backs are bare. Overall, it's boring, but the simplicity of the build makes it easy for customs.
The Finished Model
If you look at it, it looks rather simple, and it's nicely articulated and poseable. You could do away with just one, but like people say, "The more the merrier!"
Extras and Final Comments
All in all, this set is tiny, but if you take this along with, say, Stormer 3.0, you can have lots of fun with them. Each has full compatibility with the other 3.0 sets, and maybe the 2.0 sets as well (though I'm not exactly sure).
Summary
Now, this tiny canister is an easy buy, and if you have multiple of these, dozens of creations are at your disposal. Its compatibility with Lego Technic is nicely used, and that could add even more possibilities. With these in mind, you can have a good set at a good price.
| | |
| --- | --- |
| Building experience | 3 / 5 |
| Playability | 4½ / 5 |
| Parts | 4 / 5 |
| Value for money | 5 / 5 |
| Overall | 3½ / 5 |

Well, a 3.5 can be considered a good choice to get, and you can find it at mostly any toy store, so consider one to add to your collection.