Stormer 3.0 (1 Review)
Item number
2145
Number of pieces
31
Price
$7.99
€9.99
Ages
6 - 16
Released
2011
Theme
Hero Factory
Shop@Home Description:
Find out what's happening on Quatros!

Stormer! Gather the team and rush to jungle planet Quatros. Assist Rocka in stopping Witch Doctor before he removes the planet's Quaza and destroys it. Use new rhino animal power and dual fold-out blades to fight through the beasts under Witch Doctor's control to save the planet!

Features rhino fist with wrist shooter and twin fold-out blades!
Use white rhino animal power to defeat Witch Doctor!
Stormer's specialties are leading and commanding the team!
Includes blue hero core on chest!
Stands over 6" (17cm) tall!

View more information...
Reviews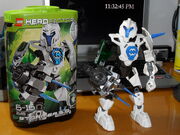 The Stormer 3.0 set is the headstrong leader of Hero Factory team Alpha 1. His 3.0 upgrade has given him some nice new features, each unique in its own way.
Box
The canister depicts a multitude of Scorpios surrounding Stormer, and it seems to contain an error, which may be the forearm pad on his left arm. It still contains the jungle theme of the 3.0 wave nonetheless.
Looks
Stormer's upgrade now gives him the rhino-based armor. This can easily be depicted in the bulky build of the armor. Extra horns add up to the build, while the use of a torso part on the left arm is intriguing. The claw doesn't go unnoticed, either. Lego depicts this as one with double fold-out blades, which can be used like fingers, and a so-called "shooter." This is rather ornamental, as it serves no shooting purpose at all.
Building
The 2.0 wave and above sets are easy to build: snap, snap, snap. The anatomical structure, as seen below, shows the body, which is wider than, say, Rocka's. This can be utilized to form wing-like attachments, like the Rocka/Stormer combination model. This is really simple to do, but gets more exciting as you go on, until the finish.
The Finished Model
A little exploring of the model can demonstrate the well-made articulation of the structure. The claw can be used for pointing stances as well, and the armor looks simply dashing.
Summary
A small canister at a small price, this is a must buy to use as a starter. Extra models can add to the playability, but overall I can say it will be enjoyable for a good long while.
| | |
| --- | --- |
| Building experience | 3 / 5 |
| Playability | 5 / 5 |
| Parts | 4½ / 5 |
| Value for money | 5 / 5 |
| Overall | 4 / 5 |

At an overall of 4, this is a great choice to consider buying. Take this along with one or two extras, and you'll find yourself with an entire picture gallery full of custom outfits and such.
Users who own this set