CzechMate
Country: Australia  
  

Joined: 31 July, 2011  

№ of Reviews: 34  
№ of Featured reviews: 1


Building Experience: Expert
---
Welcome to my "post brickimedia" review. I have not reviewed in a while, so I thought it would be a good time to.
So today, I am reviewing 30167 IRON MAN vs Fighting Drone.
Read on for fun!
Packaging

The packaging is nice, with the cool Iron Man comic form figure, in the corner, then in the bottom right hand, it has the logo for The Avengers. Iron Man is flying over the city, fighting the drone.
Minifigures
Iron Man Mark 6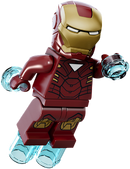 The only real figure of the set is Iron Man, in Mark 6 variant. This variant originally appeared in the Avengers sets, but this is my first Mark 6. I think this is my favourite Iron Man mark, apart from the Iron Patriot (which I will review when I get my Marvel game :3). I got a bad leg printing on this sadly, it is not printed well, as it looks very pixel-y, an error which many have found on the figure.
The Fighting Drone
Here is the main build of this polybag, the fighting drone. I am not sure what it is based upon, but I would think something like S.H.I.E.L.D sending a training drone for Stark to blow-up. I like this build - it has some interesting pieces, such as dark-green trans studs, two buzz saws, and also the end of the flick-fire, also dark green, but in a globe form. The flick-fire i think is a good feature for this size of a set, and the comparison of the drone's size to the figure is pretty decent.
Overall
I like this set - a cheaper way for getting Mark 6 - and some nice parts. The set will probably be popular IM fans, as it does have the cheap Iron Man suit, and also the pieces.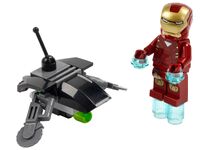 | | |
| --- | --- |
| Overall Rating: | 4½ / 5 |
| Play Experience: | 3½ / 5 |
| Minifigures: | 5 / 5 |
| Value for Money: | 4 / 5 |
| Pieces: | 4½ / 5 |

-Czech