Zombie Coffin Car (1 Review)
Item number
30200
Number of pieces
32
Minifigures
Zombie Driver
Price
$3.99
Ages
6-12
Released
2012
Theme
Monster Fighters
Shop@Home Description:
Creep through the streets in the LEGO Monster Fighters Coffin Car! It's cool to be a ghoul in the LEGO Monster Fighters Coffin Car, perfect for running eerie errands for his master Lord Vampyre! Get out of the graveyard and into the driver's seat with the LEGO Monster Fighters Coffin Car! The cool black coffin-on-wheels has real rubber tires, flame-detailed exhaust and spooky red headlights. Put the Zombie Driver behind the wheel and run errands for Lord Vampyre!

The LEGO Monster Fighters Coffin Car (30200) features:

A coffin frame, real rubber tires and flame exhaust
Includes Zombie Driver minifigure
Easy to build
Makes a great addition to any LEGO Monster Fighters building set!
Ages 6 - 12.
Contains 32 pieces

Minifigure Gallery:

View more information...
Reviews

CzechMate
Country: Australia  
  

Joined: 31 July, 2011  

№ of Reviews: 34  
№ of Featured reviews: 1


Building Experience: Expert
---

Braaaaaiiiiiins, once morrrrrrrrrrre

Zombie Coffin Car, 33 pieces, and my favourite polybag from Monster Fighters.
Got it for $16 online, which, I suppose is a good deal. Another Zombie Driver, my 3rd one.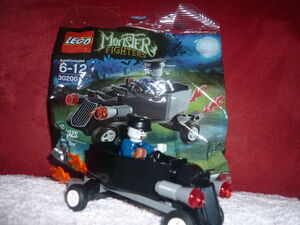 Packaging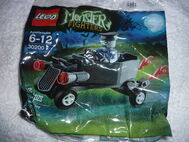 Nice polybag, the smallest one out of the three bags, but still has quite a lot in the bag. Set in a graveyard, (where else?) and normal MF logo covered behind it with the hoard of bats coming from the moon, even though Lord V hasn't eclipsed the sun yet....
Minifigure
Another Zombie Driver, not sure what to use it for, I like zombies, but having on face is just...meh. Still, they can't put any other figure in it, really. They could have put in Lord V, but I don't care.
The Set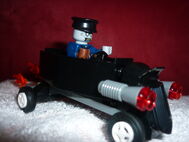 Kind of an odd looking vehicle, if you ask me. But I do really like it, and he's lucky he's in a coffin, he'll need it. If you own the Hearse or the Castle, you could put the coffin lid on it, and make it an autopilot car :P. Has real rubber wheels, which is nice. Nice little exhaust flames, which we don't see as much as we used to. I'm pretty sure the black-black driver's wheel is exclusive to this set. The red headlights amuse me for some reason, probably because with the grille, it looks a robot with slick hair, and evil eyes .
Overall
I recommend this poly over the others, as you have more play-ability with this one.
Pros
Cons
Would have been nice to have a different minifigure
No accesories
| | |
| --- | --- |
| Overall | 5 / 5 |
| Minifigure | 4½ / 5 |
| Price | 3½ / 5 |
| Playability | 4½ / 5 |
| Level of Difficulty | 2 / 5 |

-Cz
Users who own this set