Mini Dumper (1 Review)
Item number
5865
Number of pieces
60
Price
$5.99
€4.99
£3.99
$9.99
Ages
6-12
Released
December 4, 2009 (US) / December 30, 2009 (UK)
Theme
Creator
Shop@Home Description:
Build the mightiest little trucks on the road!

Haul, race, or go off-road with this creative construction set! Includes instructions to build one of three awesome mini-vehicles: a dump truck, a race car, and an off-roader. Comes in a portable and reusable can to let you take your trucks with you everywhere you go!

Ready, set, build a mini-dump truck, mini-race car or mini-off-roader!
Clean-up time? Put set away in the sturdy storage can!
Ages 6+'

View more information...
Reviews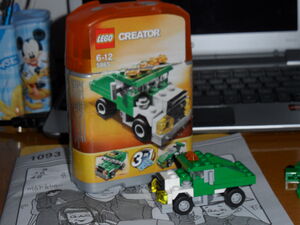 The
5865 Mini Dumper
is one of the tiny canister
Creator
sets which have a lot to offer from the beginning. Its portability can make this a good set to pass the time.
The Box
The canister, being a Creator set, shows the three models that are included in the instructions manual. There is only one, due to the set being small.
Parts
I am quite surprised at the nicely-picked pieces used in the set. These small quantity of pieces really do make a difference, so this is good enough to be MoC capable.
The Finished Model(s)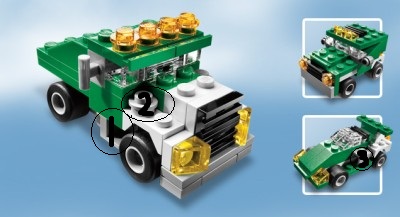 Dump Truck
: The dump truck is surprisingly well-detailed. You can see how they used the pieces to make a sort of stepladder to the seats (1), and an exposed part of the engine (2).
Off-Roader: This one is very interesting to look at when finished, and what they used for a rear door is very interesting.
F1 Racer: This one is also nicely detailed, like that vent-like part of the body as shown in (3) above. A real F1 race car would have had the driver exposed, but is nonetheless great.
Summary
One of the tiny canisters that really pack a serious punch, this can has some really good MoC potential. Hundreds of tiny car could be made with this particular set, however the small amount of pieces will need you to brainstorm an idea to make more complex ideas, but extra pieces could do as well.
| | |
| --- | --- |
| Building experience | 4 / 5 |
| Looks | 3½ / 5 |
| Playability | 4 / 5 |
| Parts | 4 / 5 |
| MoC Capability | 4½ / 5 |
| Final Score | 4 / 5 |

With a score of 20/25, this scores a B+. It may or may not need much to get around, but I recommend it for tiny playsets you could use.
Users who own this set