Race Rider (1 Review)
Item number
6747
Number of pieces
266
Price
$19.99
€19.99
Ages
7 - 12
Released
2009
Theme
Creator

View more information...
Reviews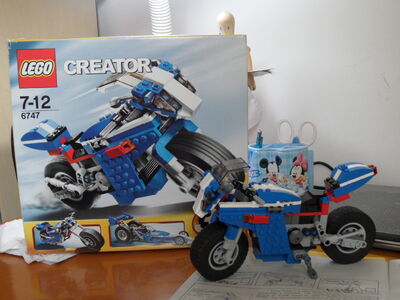 6747 Race Rider
is a wonderful Creator set, including many parts which can be useful as a starter to
Technic
, as well as pieces crucial to most figures, like spaceships.
The Box
This, like some other Creator boxes, show the 3 possibilities shown in their respective manuals. This box has 3 instruction manuals, each containing instructions for one of the models.
Parts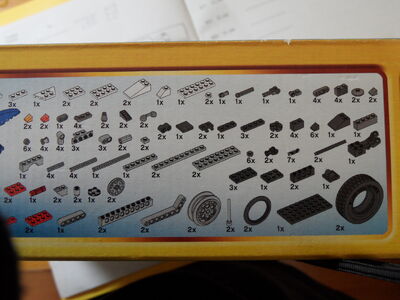 There is a rather large plethora of parts to work with, and it introduces you to parts unseen in other Creator sets, like the Apple Tree House for example. It also gives you some basic Technic parts, and once I made a robot out of them. With the seemingly large number and variety of parts, a multitude of ideas could be made.
The Finished Model(s)
Sports Bike
: When finished, the size can be comparable to a 1:9 scale model of a real motorcycle. (Believe me, I own a Rastar 1:9 model of a Honda CBR600RR.
[1]
)
Chopper Bike: This particular model looks like a common Harley-Davidson. It is somewhat shorter than the sports bike upon completion.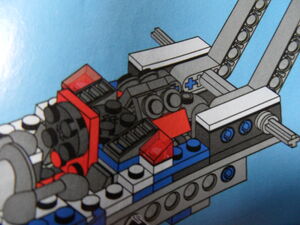 Dragster: This model utilizes each of the wheels very nicely. The engine has also been nicely detailed.
Summary
A comparatively smaller Creator set, this box can give you the ability to form dozens of possible models due to the variety of the pieces, making it good for MoCs, but the models shown can get pretty tedious and boring after a while, and you may need extra bulk parts to make more complex MoCs, but it's nevertheless a good set.
| | |
| --- | --- |
| Building experience | 4 / 5 |
| Looks | 4½ / 5 |
| Playability | 5 / 5 |
| Parts | 5 / 5 |
| MoC Capability | 4½ / 5 |
| Final Score | 4 / 5 |

With a score of 23/25, this set is definitely an A for me. Of course, the decision will be up to you, but I recommend this set to choose to add to your collection.
Users who own this set