Captain America's Avenging Cycle (2 Reviews)
Item number
6865
Number of pieces
72
Minifigures
Alien Foot Soldier
Alien General
Captain America
Price
$12.99
€14.99
£11.99
$24.99

Additional prices:

$15.99

379.00 Kč

14.99 €

4490 Ft

14.99 €

$29.99

64.99 zł

14.99 €

19.90 SFr

€14.99

Ages
5-12
Released
April 2012
Theme
Super Heroes
    Marvel
Shop@Home Description:
Win the battle against the general and the foot soldier with Captain America!

While riding his Avenging Cycle, Captain America spots the general on his craft. Help Captain America use his indestructible shield to defeat the general and his foot soldier! Win the battle and send them back to where they came from. The fate of the world lies in your hands. Includes 3 minifigures: Captain America, general and foot soldier.

Includes 3 minifigures: Captain America, general and foot soldier
Vehicles include Captain America's Avenging Cycle and general's craft
Avenging Cycle features shield holder
General's craft has folding wings and flick missile
Fire the flick missile!
Throw the shield at the general and the foot soldier!
Foot soldier's gun stand has a missile
Speed into battle on the Avenging Cycle!
Measures over 2" (6cm) high and 3" (7cm) long
General's craft measures over 2" (6cm) high and 4" (10cm) long

Minifigure Gallery:

View more information...
Reviews

CzechMate
Country: Australia  
  

Joined: 31 July, 2011  

№ of Reviews: 34  
№ of Featured reviews: 1


Building Experience: Expert
---


Today I will be reviewing 6865 Captain America's Avenging Cycle. A small set that went on sale about last year, but I was too busy with my beloved Monster Fighters, to buy.
One year later, we have IM3, USM, and also a LEGO Marvel video game coming up.
Shall you join me in my quest to found out if this set is any good?
YES YOU SHALL.
The Packaging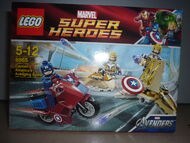 Simple box, shows features on one side, and ages and such on the other.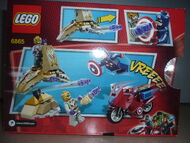 The Minifigures
You get three figures in this set - 2 exclusive.
Captain America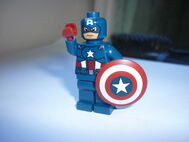 He is obviously the only reason people are buying this set, as he is exclusive, and also pretty cheap. I think this is a pretty decent portrayal of Chris Evans portraying Steve Roger/Cap (portrayal-ception). The head piece is a little bit too tanned for the skin, but the rest is fine. It is easily recognisable to be the Cap, I mean, name me one other hero in tights, with a star on his chest and a shield? His shield is a good piece to have too - LEGO has done well with it.
Chitauri General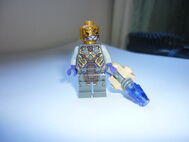 The Chitauri were villains in The Avengers who we never knew about, and villains that all comic book geeks visiting the film "said" they knew who they were. From memory, the Chitauri never actually injured any innocent human beings, and it IS The Avengers fault for waiting so long to agree to start fighting them. I am talking too much about the film. Anyway, the general is a nice figure, the head is easily reusable for a lot of things. It is very generic which is not too bad. He is armed with a gun of sorts, which is held in a position that seems rather uncomfortable, to be honest.
Chitauri Soldier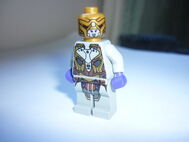 He is very similar to his general, but different colours (very, very slightly different colours). The head, again, is reusable, and the armour feels like it isn't too accurate to film, I never saw the Chitauri wear purple gloves. I am again, reading too much into all this.
The Build
Very simple build, maybe 5 minutes all together. The stickers are transparent, so it isn't too much to complain about. I did note the simplicity of the set, I would have liked it to go upto maybe 100-ish pieces, so we could get another figure, so it feels more like the battle pack they want it to be.
The Set
There is three builds: Captain America's cycle, Chitauri flick-fire station, and the chariot of dooooom.
Cap's Cycle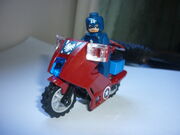 The first thing you build in this set - the cycle. It doesn't resemble what Captain America didn't use in the film either (Yes, Captain America never used any motorcycle in the film, but Bruce Banner used one). It is a lot like the cycle in that DC Catwoman set, so I am not too impressed with it.
Chitauri Flick-'n'-Miss-iles Station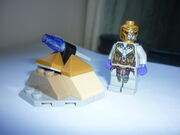 Making fun of flick fires has never been so much fun. This is such a basic area of build, they could have at least added in like a small thing that makes this seem less bland.
The Chariot of Doom
This just seems like a more basic, smaller, and bland-er version of the one which is included in the Quinjet set.The flick-fire underneath is fairly useless. Again, I just find this bit too bland. It does have some noice pieces, but that is it.
Overall
As much as my critical wording of this review makes it seem like I dislike this set, I do not. I think it isn't bad for the price, you get 2 exclusive figures, and a cycle for Cap.
| | |
| --- | --- |
| Overall Rating: | 3½ / 5 |
| Play Experience: | 3½ / 5 |
| Minifigures: | 4 / 5 |
| Value for Money: | 4 / 5 |
| Pieces: | 4½ / 5 |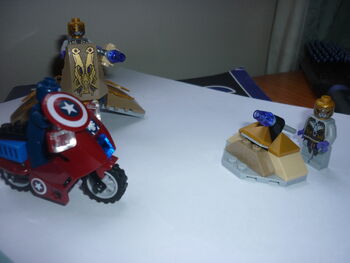 -Czecho

King of Nynrah
Country: England, UK     Age Group: TFOL   Gender: Male


Joined: November 17, 2009  

№ of Reviews: 11  
№ of Featured reviews: 1


Building Experience: BIONICLE maestro
---
What do you think of this set?
Welcome to my review of 6865 Captain America's Avenging Cycle! This is my first Avengers set (but second Marvel set) and here I'll be looking at the features, ups and downs of this set. Read on!
The box
The box is nice and well-presented, showing Captain America lobbing his shield at the alien glider while dodging the flick-fire missiles on his Avenging Cycle. The front has a cartoon of the four main Avengers in LEGO style, while the back shows their real movie appearances. The Avengers logo is in the bottom-left hand corner of the front boxart, showing the buyer that the set is taken from a scene in the movie.
There's nothing special about the instructions that hasn't already been covered in my review of 6866 Wolverine's Chopper Showdown. No mini-comic comes in this set. :(
Parts and Minifigures
There's quite a nice selection of parts here, and two exclusive minifigures: Cap and the General. Unfortunately there's no printed parts apart from the minifigures and Cap's shield, everything else uses stickers for decoration.
The set
The Avenging Cycle: The Cycle is dark red and has headlights, grills, stickers and a clip on the back to hold Cap's shield. Unfortunately, it doesn't have stands connected inside to hold it up by itself when you're not playing with it, unlike some other motorbikes (Catwoman's, City Police). So it's hard to get it to stand up by itself.
The turret: The turret is okay, and is manned by the Foot Soldier. It has a trans-purple-headed flick-fire missile launcher, which is set at an angle of around 45°. It can extend upward to an angle of 90°, but that's about it. Also there's no controls to fire said missile... maybe it's motion-sensitive, or the foot soldier actually has to physically flick the missile (I don't know, at the time of publishing the film isn't out yet, so anything could happen!) :P
The glider: The glider has three main stickers (one on the front, the other two on the wings), two purple jets on the back and another flick-fire missile hidden underneath, which you can't actually flick unless you turn it upside down. Each wing is backed up by a pair of golden Ninjago blades, and the wings can be moved up and down along with the front panel. But again, no controls to fly it... maybe these aliens are telekinetic and control their machinery with their minds? Who knows. The general seems to have at least one hand occupied with carrying that laser gun, anyway.
Conclusion
Overall, I'm a little disappointed with this set. It's not really worth the £12 I had to pay and the inclusion of stickers and lack of detail isn't great. The minifigures are good though. It'll be interesting comparing this set to the actual turrets and gliders when I see the movie soon. I'd give it a 5/10. Until the next time!
Users who own this set