Evanf
Country: USA     Age Group: Why do you care?   Gender: Male

Joined: April 11, 2011  
№ of Reviews: 2  
№ of Featured reviews: 0


Building Experience: You can't be more experienced than me
---
This is a great set for its price. I personally like Wolverine, and I highly recommend buying it. Let's start.
The Minifigures
Which Minifigure do you like best?
Wolverine
His hair is like the Chancellor's from Star Wars, except black. They head is a new print and I have to say, amazing. It is extremely similar to the real Wolverine, (well in the movies, cause Wolverine isn't real). His torso and legs are similar to the movies, and detailed a lot to look like the movies. His talon/claw things are new too, and are detailed. It is a very good minifigure.
Deadpool
Deadpool I always thought was a cool character. He is wearing a red mask and suit with various bombs/weapons on it. The torso is pretty detailed. He has two ninja swords on his back in a criss-cross pattern. He also has a new-formed gun. He is very detailed and many people like him.
Magneto
This is his battle suit. His helmet is extremely similar to the one in the movies, so is his torso. He also has a cape. His head is very detailed and looks a lot like the Magneto in the movies. He is detailed overall and generally good.
Vehicles
Helicopter
Do you like the Helicopter?
The helicopter is one word... Great. It is so detailed and durable. It is colored a nice crimson, and just nice. Those are the words that come to mind. The interior is detailed nicely, and the cockpit fits one minifigure, who is Deadpool. (Or actually anyone). This is just a good helicopter. The copters come off and it can be a car/truck/vehicle that drives.
Wolverine's Motorcycle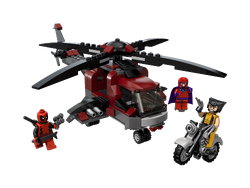 This motorcycle is just like most, but the headlights. The motorcycle is pretty good, but I think it should have been customized like Catwomans. With yellow or something like that.
Conclusion
It is good for its price. The helicopter is detailed, and so our the minifigures. I highly encourage buying this, it is a really great set.
Has your opinion changed on this set because of this review?
| Value for Money: | 5 / 5 | Minifigure: | 4 / 5 | Overall: | 5 / 5 |
| --- | --- | --- | --- | --- | --- |
Ad blocker interference detected!
Wikia is a free-to-use site that makes money from advertising. We have a modified experience for viewers using ad blockers

Wikia is not accessible if you've made further modifications. Remove the custom ad blocker rule(s) and the page will load as expected.