ToaMeiko
Country: United States     Age Group: TFOL   Gender: Male

Joined: December 18, 2012  
№ of Reviews: 5  
№ of Featured reviews: 1


Building Experience: Expert
---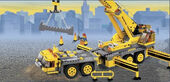 Review in Progress!
This review is not yet finished and is being expanded by its writer, ToaMeiko, and may undergo critical changes while this message remains in place.
If this template has been on the page for over one week, it may be removed.
Hi, today I'm reviewing 70113 CHI Battles. I received this set free for participating in the LEGO Legends of Chima Speedorz Challenge activity at BrickFair Virginia 2013.
Ad blocker interference detected!
Wikia is a free-to-use site that makes money from advertising. We have a modified experience for viewers using ad blockers

Wikia is not accessible if you've made further modifications. Remove the custom ad blocker rule(s) and the page will load as expected.