Kai's Fire Mech (1 Review)
Item number
70500
Number of pieces
102
Minifigures
Kai
Scout
Price
$9.99
€9.99
£7.99
$15.99

Additional prices:

$12.99

9.99 €

€9.99

$17.99

99.90 kr

Ages
6-14
Released
2013
Theme
Ninjago
Shop@Home Description:
Help protect the elemental fire blade with Kai's Fire Mech!


Help the ninjas to collect the 4 elemental blades and awaken the mythical golden mech! Lord Garmadon has sent his scout to snatch the elemental blade of fire from Kai but Kai is ready and waiting in his mighty Fire Mech! The scout's crossbow weapon is no match for the mech's huge double-edged fire blade and impenetrable armor. Battle for control of the elemental fire sword! Includes 2 minifigures with weapons: Kai and scout.

Includes 2 minifigures with weapons: Kai and scout
Features poseable arms and legs, grabbing hands and space for a minifigure in the cockpit
Weapons include double-edged fire blade and a crossbow with quiver
Battle for the fire blade with Kai in the cockpit!
Play and display with the fully poseable design!
Measures over 5" (15cm) tall

Minifigure Gallery:

View more information...
Reviews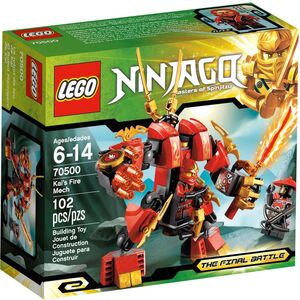 Minifigures
Minifigures Included: Kai and Stone Warrior Scout
Kai KX
When I saw the 2013 sets of Ninjago, I found a Kimino Kai on some kind of mini mech, and when I saw Kai, I was like stunned by how he looked like, so I ordered it and when I got it, Kai looked amazing with Elemental Blade with him.
Stone Warrior Scout
The Stone Warrior Scout is a bit different from the full legged minifigures, But this figure is not bad at all.But that was the second set with short legs.
The Build
The Build itself was really good for me.When I finished, It was amazing build. But If there was another mech, I could have made a 2013 Ultra Mech for Kai for the MOC.
The Pieces
This set has some cool pieces because It has cool stickers and parts.
Functions
The only and main function of this set is the Cannon and the Elemental Sword.
Pics

The set is mostly for Kai KX because it's the Mech. it's worth the $10 or $9.99 for just a 102 pieces set. Kai in his Kimino form is awesome, and it's the only way to get him under $50 and $20.I would recommend this set to any Ninjago Fan, But if you are getting The Samurai Mech of this theme, try your best to combine those two mechs or combine it with the other mechs.
What do you think of this set?
| | |
| --- | --- |
| Overall Rating: | 5 / 5 |
| Play Experience: | 4½ / 5 |
| Value for Money: | 4 / 5 |
| Minifigures | 5 / 5 |
| Pieces | 4 / 5 |
Feedback
How would you rate this review?