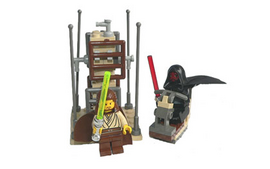 This is Gamewolf67's review of Lightsaber Duel. It is a very small set, but not bad for the first Star Wars set. The minifigures are Darth Maul and Qui-Gon Jinn. Included features in the set are Darth Maul's speeder bike and a vaporator. It is made out of ladder pieces. Meanwhile, the speeder is basic. It can be built into a flying machine.
[[
Ad blocker interference detected!
Wikia is a free-to-use site that makes money from advertising. We have a modified experience for viewers using ad blockers

Wikia is not accessible if you've made further modifications. Remove the custom ad blocker rule(s) and the page will load as expected.