Golden Staff Guardians (1 Review)
Item number
7306
Number of pieces
70
Minifigures
Mac McCloud (Variation 2)
Mummy Warrior (2)
Price
$9.99
€9.99
Ages
6 - 14
Released
January 2011
Theme
Pharaoh's Quest
Shop@Home Description:
Race to the temple and battle for the golden staff!

Mac McCloud races towards the temple on his motorcycle in search of 1 of the Pharaoh Amset-Ra's 6 treasures, the golden staff. Gain access to the staff with dynamite and stay one step ahead of the mummies! Includes three minifigures: Mac McCloud and 2 mummies!

Includes 3 minifigures: Mac McCloud and 2 mummies
Mac McCloud includes gun, helmet and goggles
Mummies include ancient headdresses and swords
Features dynamite, motorcycle, temple and golden staff treasure
Temple features blow-out wall and secret compartment to hide the golden staff
Temple measures over 3" (9cm) tall and 2" (5cm) wide
Motorcycle measures 3" (7cm) long and over 1" (3cm) tall

Minifigure Gallery:

View more information...
Reviews
Clone gunner commander jedi
Country: United Kingdom, England     Age Group: 16   Gender: Male

Joined: 28th September, 2010  
№ of Reviews: 7  
№ of Featured reviews: 0


Building Experience: Expert
---
My video review of 7306 Golden Staff Guardians.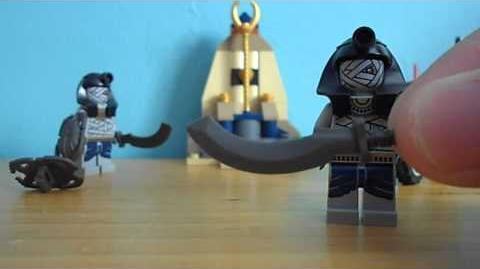 Users who own this set
Ad blocker interference detected!
Wikia is a free-to-use site that makes money from advertising. We have a modified experience for viewers using ad blockers

Wikia is not accessible if you've made further modifications. Remove the custom ad blocker rule(s) and the page will load as expected.