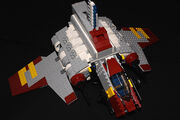 The Republic Attack Shuttle is an amazing set that comes with three minifigures. The retail price is $60.00 in the USA and was sold in the year of 2009. The unopened product goes for around $75.00 now.
Set Features
The set has two swiveling cannons on the front of the ship. On the front of the wings there are rotating machine guns. On the top of the ship there is a new system that allows a rapid flick fire missle system. On the bottom of the ship there are two levers that drop two missles each.
Ad blocker interference detected!
Wikia is a free-to-use site that makes money from advertising. We have a modified experience for viewers using ad blockers

Wikia is not accessible if you've made further modifications. Remove the custom ad blocker rule(s) and the page will load as expected.