Team GB Minifigures (1 Review)
Item number
8909
Minifigures
Agile Archer


Brawny Boxer
Flexible Gymnast
Horseback Rider
Judo Fighter
Relay Runner
Tactical Tennis Player
The Stealth Swimmer
Wondrous Weightlifter

Price
£1.99
Ages
5+
Released
July 1, 2012 (Officially)
Theme
Minifigures
Shop@Home Description:
Collect every gold-medal contender in the Team GB LEGO® Minifigures series!

Competition is building for the hot new Team GB LEGO® Olympic Minifigures team! Each of the 9 all-new minifigures includes their own special accessories, display plate, collector's leaflet and comes in a sealed "mystery" bag, so you never know which minifigure you might get. Which one will you get when you open the mystery bag? Team GB LEGO Minifigures include: Brawny Boxer, The Stealth Swimmer, Relay Runner, Judo Fighter, Tactical Tennis Player, Flexible Gymnast, Wondrous Weightlifter, Horseback Rider and Agile Archer. A must-have for LEGO minifigure collectors!

Every minifigure comes with accessories and display plate
Collect all of the 9 mystery minifigures!
A must-have for LEGO® minifigure collectors

PLEASE NOTE: Only 1 of 9 individual minifigures in each "mystery" bag. Unfortunately, we cannot accommodate requests for specific minifigures – and some minifigures may be more difficult to find than others. You may receive 2 or more of the same minifigures – trade with your friends to collect them all! A maximum of 9 minifigures may be ordered per address, per household., OFFICIAL TEAM GB LEGO MINIFIGURES LAUNCHED

To celebrate the London 2012 Games, the number one selling toy in the UK market* is back with an exclusive special edition line of Team GB LEGO Minifigures

With less than 71 days to go until the UK's biggest sporting event of the century, for the first time in history LEGO has launched a special edition range of Team GB Minifigures. The collectible range will only be available in the UK to commemorate this once in a lifetime event for the nation.

The Team GB LEGO Minifigures spark the sporting imagination, so you can stage your very own Games.

At just £1.99 each, the Team GB LEGO Minifigures will be in stores from 1st July 2012 in John Lewis and other good high street retailers.

There are nine exclusive Team GB LEGO Minifigures in the line-up, including:

Brawny Boxer

Punching his way to the top, this lean machine in blue is ready to float like a butterfly and sting like a bee for Team GB!

The Stealth Swimmer

Like a fish in the water, the Stealth Swimmer is ready to torpedo through the water into to pole position.

Relay Runner

Sprinting to reach the winning line, could this give Team GB a relay team victory?

Judo Fighter

Taking down her opponent's one at a time, this mistress of martial arts knocks down anything in her way to grasp that gold medal.

Tactical Tennis Player

First on the court in his gleaming whites, this tennis ace will knock the white socks off of any competition.

Flexible Gymnast

Balance and co-ordination is the name of the game for this agile Olympic contender.

Wondrous Weightlifter

Powerlifting his personal best, the crowd looks on as this burley guy weighs up his chances of going for gold.

Horseback rider

Riding her way to the last hurdle, this athlete won't be horsing around when it comes to winning!

Agile Archer

Complete with bow in hand, let's hope this little fella will be on target on the day!

Minifigure Gallery:

View more information...
Reviews
Clone gunner commander jedi
Country: United Kingdom, England     Age Group: 16   Gender: Male

Joined: 28th September, 2010  
№ of Reviews: 7  
№ of Featured reviews: 0


Building Experience: Expert
---

My video review of 8909 Team GB Minifigures.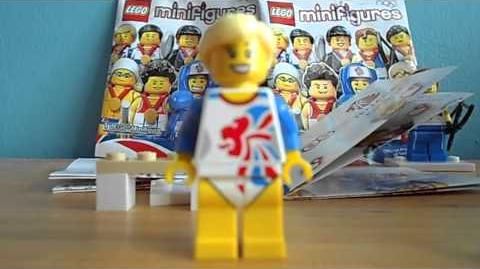 Users who own this set
Ad blocker interference detected!
Wikia is a free-to-use site that makes money from advertising. We have a modified experience for viewers using ad blockers

Wikia is not accessible if you've made further modifications. Remove the custom ad blocker rule(s) and the page will load as expected.