9443 Rattlecopter (3 Reviews)
Number of pieces
327
Minifigures
Kai
Fang-Suei
Lloyd Garmadon
Price
$29.99
€29.99
£24.99
$49.99

Additional prices:

$59.99

Ages
8-14
Released
2011
Theme
Ninjago
Shop@Home Description:
Charge into a sky-high villain battle and snatch the golden snake staff!

Lord Garmadon's son Lloyd is getting away with the golden Constrictai staff – until he gets cornered by Fang-Suei, a fearsome soldier of the Fangpyre snake tribe. Will Lloyd taste the bite of Fang-Suei's Rattlecopter and his mini-snake minions? Help Kai to swoop in on his fire-powered jetpack to snatch the staff and rescue Lloyd! Beware of the Fangpyre's bite and its power to turn people into snakes! Grab the staff and the anti-venom hidden inside as you blast out of there! Includes Kai ZX, Lloyd Garmadon and Fang-Suei minifigures, Rattlecopter, golden Constrictai staff, 3 weapons, 2 mini-snakes and jetpack.

Includes 3 minifigures: Kai ZX, Lloyd Garmadon and Fang-Suei
Features mini-snake bomb function, 4 flick missiles, rotating blades, opening cockpit and 2 snake spinner crowns
Accessories include golden Constrictai staff, 2 mini-snakes and jet-pack
Weapons include 2 golden ninja daggers and thunderbolt dagger
Launch the mini-snake bombs from the Rattlecopter!
Blast into battle with Kai's fire-powered jetpack!
Fire 4 flick missiles for an awesome air assault!
Rattlecopter measures over 10" (27cm) long and 9" (23cm) wide

Minifigure Gallery:

View more information...
Reviews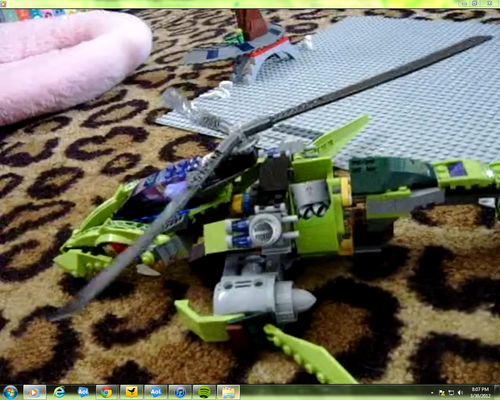 Hello everyone! This is clone commander dominos reviewing the 9443 rattlecopter. Leave a message on mt talk page if you want to say anything.
minifigs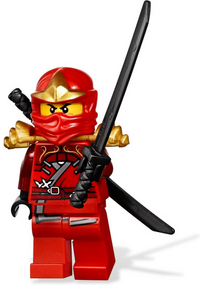 Kai Zx is the first minifig. He comes with two golden dagger weapons. He also comes with a jet pack that is a bit heavy and can make him fall.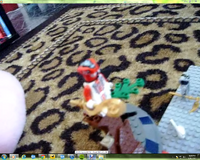 Fand suei is also included as a villian to arm the rattle copter. He is nicely made with cool design on his body and head.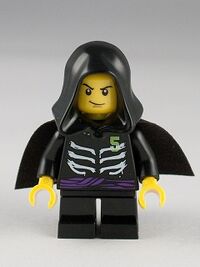 Loyd is also included. He has a electric dagger that looks kind of like a light saber. He also carries the constricti staff.
features
The rattle copter has many interesting features. One is its cool rotors which rotate when you spin them. Another feature is its bomb drop in the center where you put to white snakes which come with the set. You can drop the snakes downward to bombard Kai. On the tail are spinner parts that can be used as spinner. It also comes with two flick fire missles and wings that fold.
conclusion
It is very stable and can be played with well. The head may fall of though if you play with it to rough. I give it a
9.0 for good play time and great minifigs but it could fall a bit. If you modify it a bit with certain bricks then I give it a 10.0! This is a must have set.
price:$29.99

LSCStealthNinja
Country: USA     Age Group: TFOL   Gender: Male


Joined: January 18, 2012  

№ of Reviews: 7  
№ of Featured reviews: 0


Building Experience: Expert
---
How would you rate 9443 Rattlecopter?
---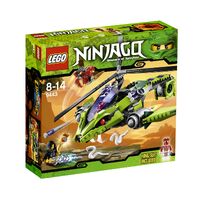 Overview
This was a pretty nice set. The Minifigures were awesome, although I think they could have added more. Kai with a Jetpack is exclusive to this set. The Helicopter Rotors and the back Spinner Crowns make this set great for Set Pieces, and also has some pretty nice features.
Minifigures
Minifigures Included: Fang-Suei, Lloyd Garmadon, Kai.
Fang-Suei
Fang-Suei is the pilot of the Rattlecopter. His torso is very intricate with red and white scales, continuing down to his legs, also detailed. His detailed head is red with white fangs.
Lloyd Garmadon
Lloyd Garmadon is a nice addition to the set. According to the description, Kai has to snatch the Staff and Lloyd to save him from the Rattlecopter. Lloyd's Torso is black with a mini version of Lord Garmadon's torso printing. His torso is just the standard short black legs. His hood and cape cover the toppart of his torso, where there is a green arch and the number 5. His head has two sides: One With a Confident Smile, the other with a Frightened Look.
Kai
Kai is the hero of this set. He has to get the staff and Lloyd before the Rattlecopter does. However, I do have some a problem with Kai in this set. It comes with his Jetpack instead of his shoulder pads.
White Snakes
The White Snakes can drop down from the Rattlecopter by pinching the back part of the Rattlecopter.
The Build
Building the set was pretty fun. I had some difficulty putting on the snake's diagonal face over the eyes, but overall, it was a pleasurable experience.
The Pieces
The Pieces that come with this set are either exclusive to this set or are awesome. The Helicopter Rotors look like Katanas, and the big Fangpyre symbol below is a nice addition to the set. The purple cockpit is definitely really cool. The Light Green Spinner Crowns in the back are also a great addition to the set, although they often fall off. The doors that release the White Snakes are neat. The engines are a very great addition to the set. Inside the engines, the front is actually an old knight helmet, which I thought, is pretty clever. The things that hang out are awesome (Don't know what they're called)! The set is a must-buy for the pieces.
Functions
The Rattlecopter definitely has some pretty cool features. As I said above, the White Snakes can "parachute" out of the helicopter and attack Kai and Loyd. You can do this by pinching two light green doors in the back. Also, the Flick Fire Missiles actually work, for me. This set has some pretty nice functions.
The Set
The set was definitely fun to play with, and mostly worth the price. The Rattlecopter is easy to hold, and the White Fangs hanging down from the Rattlecopter are awesome. The Rotors of the set are very cool, and look like Katanas. The eyes are also very nice. However, the Spinner Crowns on the back kept falling off, so I finally, I just removed them. Overall though, I would say its a very good set, and I would recommend getting this set.
| | |
| --- | --- |
| Overall Rating: | 4 / 5 |
| Play Experience: | 5 / 5 |
| Level of Difficulty: | 2 / 5 |
| Value for Money: | 4 / 5 |
</div> </div>
</div></div>
Title of review: Is this why the snakes always lose battle?
My rating:





0 / 5
This is technically the worst Ninjago set you own. Here's all the bad parts.
Figures
Kai's jet pack breaks easy and Lloyd's cape goes in weird places. Fang-suei is the only good fig. But I already have his spinner.
Parts
Many parts in this set are small (smaller than a 2x2 tile) and can get lost easy.
Playability
The really worst part. It breaks so easily when you lift it up. That's all I can say. Please check my other reviews if you want something "happy".
Users who own this set